COVID-19 surges need for gigabit networks
GIGAEurope Launch Event "Connecting for Recovery" Emphasises Need for Continued Investment in Very High Capacity Networks to Connect All Europeans to 1Gbps Networks by 2025
Brussels – 17 November 2020 – GIGAEurope, the industry association of private investors in gigabit connectivity celebrated its launch by bringing together policymakers MEP Miapetra Kumpula-Natri and Anthony Whelan, Digital Policy Adviser in the Cabinet of President von der Leyen, plus senior industry executives from Vodafone Group, Liberty Global, VodafoneZiggo and Telenet.
The event highlighted how the coronavirus pandemic surged network occupancy, as home working, online learning, remote healthcare services and digital public services drastically increased. Research by OMDIA shows the impact of COVID-19 and lockdowns throughout Europe on the use of online services:
200% increase in internet telephony and online videoconferencing
75% increase in online gaming
50% increase in video streaming
30-40% increase in VPN traffic.
 Keeping everybody connected
Investment in network upgrades year-on-year in terms of higher speeds, lower latency and more bandwidth – well ahead of the pandemic – allowed broadband networks to manage the unprecedented spikes in internet traffic.
Next to their core network related business, connectivity providers have taken special measures to keep everybody connected during the pandemic: social tariffs, removal of data caps, and tailored connectivity solutions for hospitals and schools.
Less than half of EU households have access to gigabit speeds
The DESI 2020 report by the European Commission states that currently 44% of EU households have access to a connection of 1 Gbps or more.
Joakim Reiter, Co-Chairman of GIGAEurope and Group External Affairs Director, Vodafone Group comments:
"Even though our networks show resilience during the pandemic, Europe is still far from achieving its Gigabit Society goals for 2025. Reaching the EU gigabit target of 1 Gbps for all European households by 2025 requires a concerted effort. A mix of gigabit technologies, mobile and fix, is needed. Policymakers and all stakeholders within the digital ecosystem are standing at a critical junction and need to partner to co-create Europe's Digital Decade."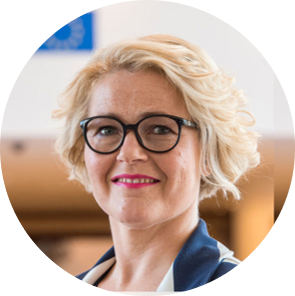 MEP Miapetra Kumpula-Natri commented at the GIGAEurope launch event:
"The demand side has now increased a lot compared to the times when we were regulating the European Electronic Communications Code (EECC). The crisis showed how much data can help society. There is no data society if we do not have connectivity everywhere. I call for investments and for a culture of data sharing and skills at all levels to reap the possibilities unlocked by the investments."
On the same occasion, Anthony Whelan, Digital Policy Adviser, Cabinet of President von der Leyen commented:
"

We need progressive upgrades of our networks preferable before demand accumulates in a surge, as we see that life and workstyles are transforming. Also a message to public authorities in areas where the market cannot meet the new normal life style, including types of economic growth underpinned by remote working: it is more urgent than ever to support industry roll-out with various types of public support, but only where needed. That is one reason why in the EU recovery plan, we have put a lot of emphasis on connectivity as one of the flagships that Member States should integrate in their national recovery plans.

"
20% of EU Recovery Fund will be invested in Digital
The GIGAEurope launch event demonstrates how the new association wants to create an open dialogue with regulators, governments and politicians. The panel discussion elaborated on complementary public funding and creating the optimal conditions for private operators to invest in gigabit networks.
Manuel Kohnstamm, Co-Chairman of GIGAEurope and Senior Vice President and Chief Corporate Affairs Officer Liberty Global comments:
"We support the Commission's initiative of fostering national recovery plans that balance efficient public spending with creating conditions best suited for private investment. Immediate priorities for accelerating the gigabit ambitions relate to reduction of the cost of deploying very high capacity networks and to ensuring investment-friendly 5G spectrum licensing approaches.".
Kohnstamm adds:
"Consolidation is to be encouraged to foster strong European telco competitors and create a real internal market for telecom services."
He applauded Europe being more open to M&A activity in the telecom industry, as the EU Commission recently demonstrated in various merger files.
Gigabit infrastructure: cornerstone of an inclusive, digital, green Europe
The connectivity sector also plays a significant role in driving Europe's green transition. As part of the overall Green Deal climate neutrality objective for the EU, a sector-specific target of zero carbon emission by 2030 has been set for telecommunications networks and data centres.
By connecting SMEs and socio-economic operators to gigabit networks, providers also act as a catalyst for the greening of the European economy more broadly. Gigabit connections facilitate the use of smart technologies for sustainable business operations, remote working, distance learning or digital health.
Irina Varlan, Managing Director of GIGAEurope comments:
"Gigabit infrastructure is a cornerstone of Europe's technology leadership and digital competitiveness ambitions. Members of GIGAEurope are key players in the European digital ecosystem, who jointly deliver on the promise of the data economy and democratize access to emerging technologies. Gigabit connections and seamless fixed/mobile connectivity solutions are ready to power European Cloud, IoT, AI and smart green solutions at scale".
Built on the foundation of Cable Europe
GIGAEurope builds on the legacy of Cable Europe, which was active since 1955. With the connectivity industry having undergone major technical advances, the launch of GIGAEurope symbolizes the shift towards gigabit connectivity and the convergence of fixed and mobile networks undertaken by private investors in this sector. It was therefore time for private investors in very high capacity networks to relaunch its collaboration under a strengthened voice. And this voice is GIGAEurope.
The connectivity sector is a catalyst for #EUGreenRecovery. ✔︎Renewable energy ✔︎Recyclable materials support EU's 2030 zero emission target for telecoms networks. We connect SMEs and socio-economic operators to green solutions. Find out more today: https://t.co/MDyQe3MdOc

— GIGAEurope (@GigaEurope) November 17, 2020
Digital Transformation of European SMEs Requires Greater Multi-stakeholder Cooperation & Access to Digital Skills
Brussels – 3 February: The third EURACTIV-GIGAEurope Digital Debate Series event, Supporting SMEs Post-Pandemic, outlines measures to help future-proof SMEs. It is crucial businesses are equipped with adequate digital skills, access to technology, and a supportive policy environment.
Safeguarding internet freedoms under the Digital Services Act (DSA)
Brussels – 6 December 2021: This press release features highlights of the policy debate "Navigating the Digital Ecosystem under the Digital Services Act" organised with the support of the Slovenian Government Office for Digital Transformation.